Four Ysgol Aberconwy students who are part of a street dance group based in Colwyn Bay have become world champions after competing at the United Dance Organisation (UDO) World Street Dancing Championships during the Summer holidays!
Congratulations to Keiyarna (year 10), Evie and Aleah (year 11) and Coral who has recently left after completing her GCSEs, who competed in team 'Autonomy' to win the Under 18 Novice division!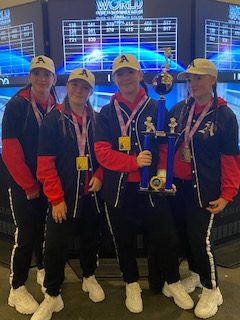 These championships saw thousands of dancers from across the globe come together to compete for a number of World Champion titles at the Winter Gardens in Blackpool, in front of the world's best Hip Hop and Street Dance celebrity judges.
The team of eleven, all aged 13 – 17 from local secondary schools, who belong to a street dance team, based at Step One Performing Arts School, had to first make it through regional qualifiers in Stoke back in May, to enable them to compete.
Not only did they come first in the regional qualifiers in May, they also came first in round one of the competition in Blackpool, which afforded them immediate qualification to the grand final. Then, against seven other international teams, they scored the highest, claiming victory and the world champion titles!
The routine may have only been two and a half minutes long, but it took hours and hours of studio time during the last twelve months to perfect. A fantastic and well deserved achievement for the team who stuck together through COVID, often practising via video link when they couldn't get together to rehearse.
To watch their superb performance, please see the YouTube video below