Ysgol Aberconwy students recently worked with Andy Birch (Dime One graffiti artist) on a project to design a mural that highlights rail safety and the dangers of trespassing on the railway.
The project, in partnership with Transport for Wales, British Transport Police and funded by the Conwy Valley and North West Wales Community Rail Partnership, aims to try and reduce trespass and anti-social behaviour at railway stations. British Transport Police Wales engaged with students in the school, and PCSO Suzanne Hall visited our school to explain the project and to discuss the dangers of trespassing on the railway to our students.
After being shown how to create graffiti style lettering and designs by Andy, our students then worked together to create a design for a mural that would be displayed at a local train station. The vibrant, striking image was spray painted in the shelter at Conwy Railway Station by Andy Birch and the students, with Mrs Bethan Russell, Art & Design teacher and PCSO Suzanne Hall also having a turn with the spray paint! The students thoroughly enjoyed the experience and are very proud of the final result. We think the completed design looks amazing!
Ian Gerrard, Headteacher said, "Congratulations to everyone involved and thank you for all your hard work. As a school we were delighted to be asked to participate in this important initiative that could help to save lives."  
Andy Baker, Transport for Wales Station Manager (North West Wales) said, "It's important to engage with young people in a way that they understand, this project was a wonderful way of engaging with the students from Ysgol Aberconwy and get over the importance of safety around railways. It is a fabulous piece of Art. I was so impressed with the students from Ysgol Aberconwy, their engagement and how they had thought about the safety subject, they were polite and pleasant, a credit to their parents and the school."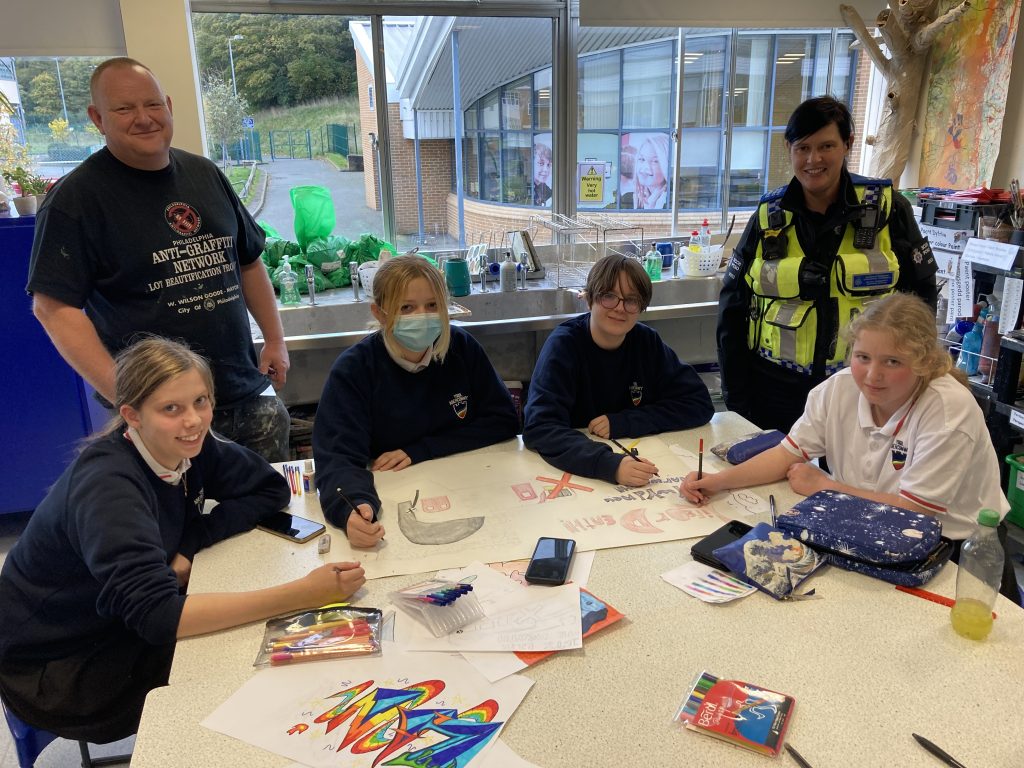 –